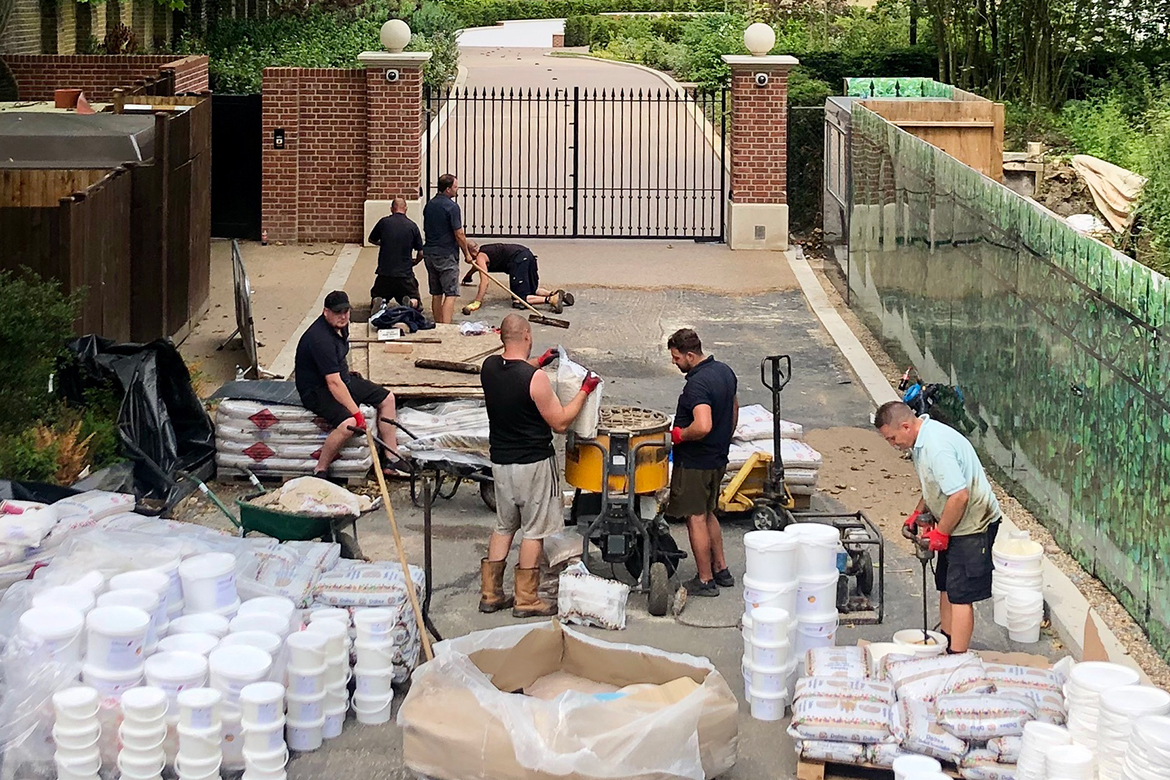 Resin-bound aggregate provides a tough, easy-to-maintain and aesthetically pleasing surface that gives the appearance of natural gravel without the associated disadvantages. An existing base of either tarmac or concrete can be used if it is in a suitable condition.
If required, Pavilion Paving can install a new base or carry out localised repairs, enabling a cost and time-efficient paving solution. We also offer a wide range of edging options to compliment your new resin-bound aggregate surface.
The Creation of Resin-Bound Paving
The system uses a two-part resin mix, which is combined with natural aggregate in a forced action mixer to completely bind together into a beautiful, seamless paving solution laid at 18-20mm thickness. Resin-bound surfaces are ideal for driveways, footpaths, playgrounds, car parks and patio areas. We have 20 standard finishes available (see below); we can also create your very own bespoke resin aggregate mix or add borders, motifs, patterns and much more in a different colour resin aggregate mix.
Resin-bound surfacing is permeable, thus allowing surface water to drain through the surface and back into the water table. The finish is an anti-slip, weed-proof, porous surface with the performance of concrete or tarmac. Within a few hours, the area will be ready for use. It is also more attractive and flexible than concrete and other traditional surfaces.
Resin-Bound Surfacing Advantages

Although there are so many hard-surfacing systems available on the market, resin-bound surfacing is one that has many advantages.

Resin-Bound Aggregate Colour

One of the most sought-after qualities of resin-bound surfaces is that the colours are customisable. Similarly, the UV resistance of the material allows the colour to remain unaffected over an extended period of time.

Permeable Resin-Bound Surfaces

In addition to the aesthetics, one thing that sets resin-bound surfaces apart from other hard surfaces is their permeability. The pooling of water can be inconvenient and unattractive, and resin-bound surfaces work to eliminate this issue.

Slip-Resistant Resin-Bound Aggregate Surfacing

When it comes to paving, safety is essential. Fortunately, resin-bound surfaces are incredibly safe, thanks to their slip-resistant nature.

Weed-Resistant Resin-Bound Driveways

As far as aesthetics are concerned, resin-bound surfacing is among the most attractive, as it doesn't allow weeds to poke through the surface.

Frost-Resistant Resin-Bound Paving

As previously mentioned, any type of surfacing must offer the utmost safety. Since resin-bound surfaces are frost resistant, this minimises the likelihood of slips and falls occurring in the winter months.

Seamless Surfacing

Last but not least, resin-bound surfaces can be effortlessly slotted into any outdoor environment without looking out of place.

Resin-Bound Paving Uses

It's widely understood that resin-bound paving can be laid in almost any outdoor environment. This includes popular uses such as driveways and forecourts.
Discover our standard finishes below