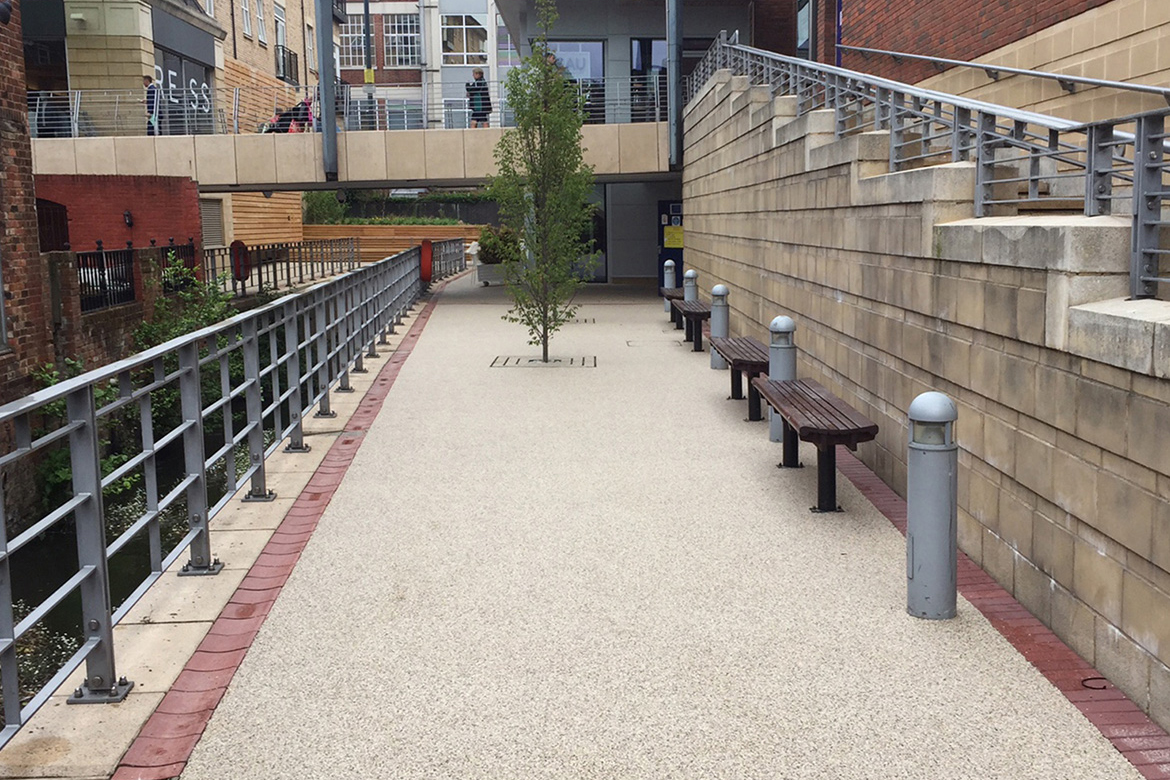 While domestic driveways have been a high profile part of our project portfolio, Pavilion Paving has also worked extensively as a commercial paving contractor specialising in resin bound surfaces for local authority, commercial and school applications.
Resurfacing large areas with resin bound aggregates offers a range of benefits for commercial projects where an investment needs to guarantee a long term solution with minimum maintenance and a consistently smooth, safe surface.
Over the years, Pavilion Paving has completed a wide range of contracts with large building companies, property developers, local authorities, architects, and schools to create commercial paving solutions that have fulfilled specific criteria. Our resin bound aggregate has proved successful for a number of reasons.
Versatility of Resin Bound Aggregates

Although we have a wide range of standard colours and finishes, we are able to create bespoke designs within the layout to individualise the finished project. Alternatively, we can customise a unique colour profile for a resin bound surface that complements the surrounding environment and matches an organisation's branding.

A Permeable, Puddle-Free Surface

The permeability of resin bound surfaces ensures that surface water automatically drains through the surface back into the water table, eliminating puddling and guaranteeing a clean, dry surface.

Low Maintenance

As one of the UK's most experienced commercial paving contractors, we understand the importance of providing low maintenance options to help organisations save on additional remedial costs. As well as being fully permeable, resin bound aggregates prevent the unwanted growth of weeds that can both damage the surface and spoil the overall aesthetics of the finished job.

Providing a Safe and Slip-Free Environment

The weed resistance and permeability of resin bound surfaces are further enhanced by the fact that it is also frost and ice resistant, making it a slip-free environment, which is important for commercial areas with a high footfall.

Risk-Free Contracts

In response to all enquiries, Pavilion Paving has a full portfolio of completed commercial jobs. Upon enquiry, the company will integrate a full risk assessment as part of the overall project and also has the reassurance of a £10 million public liability insurance. To discuss a potential resurfacing project, simply fill in your details below, and we will be in contact.