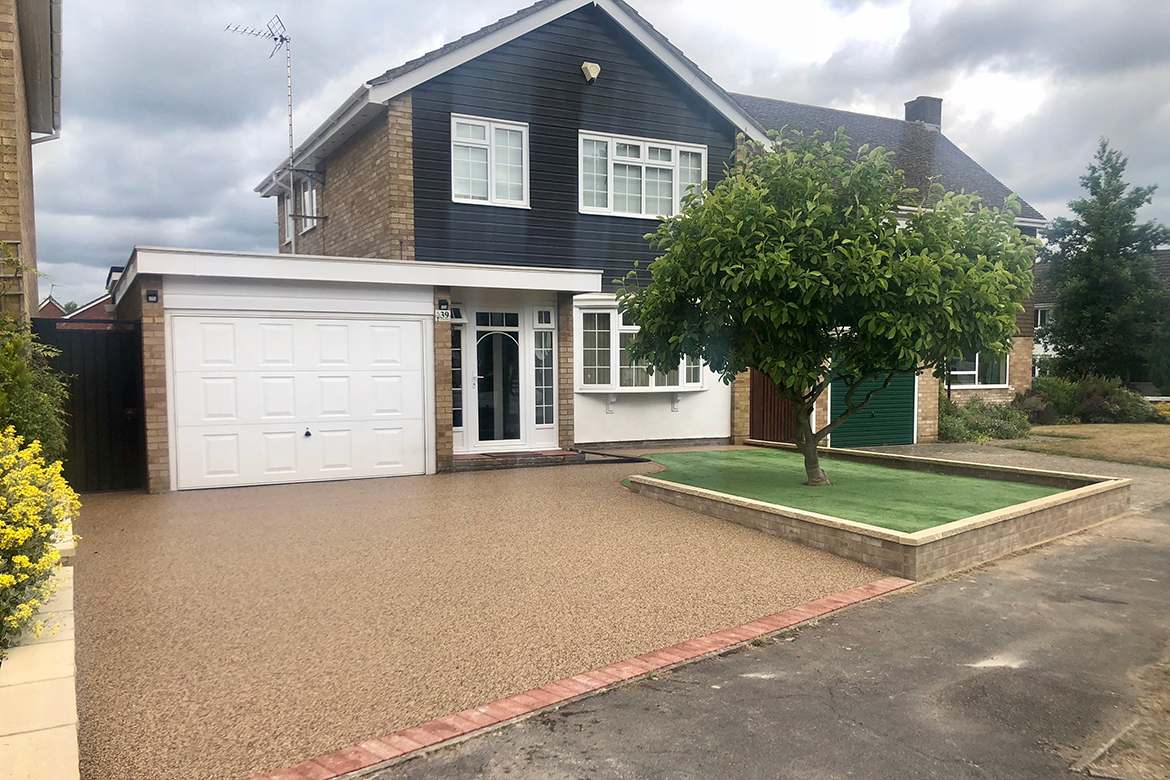 COVID-19: Contactless Quotations are available. To book an appointment please
click here
Traditionally, householders looking to improve their driveways seek out paving or gravel as the primary material. However, increasingly, resin-bound aggregate is being used as an alternative for improving driveways, offering so much in terms of benefits and aesthetics.
THE BEST DOMESTIC DRIVEWAY SURFACE

There are a number of reasons why resin-bound aggregate is the favoured material for the best domestic driveway surface. Not only does it look fabulous, but it is also extremely low maintenance, durable, and provides you with a surface that is safe and slip-resistant, even in icy conditions.

DURABLE QUALITIES OF A RESIN DRIVEWAY

Pavilion Paving's two-part resin mix is combined with natural aggregate to create a smooth and seamless paving solution laid at 18-20mm thickness. While traditional paving or gravel driveways can quickly fall foul of creeping weeds popping up no matter how much membrane you put down, a resin driveway will prove consistently and permanently resistant to any weed creep. Not only does this give you a much cleaner and smoother finish, but it also helps to reduce overall maintenance requirements, avoiding the need to put down weedkiller or spend back-breaking hours digging out persistent growers.

AESTHETIC QUALITIES OF A RESIN DRIVEWAY

The choice of colours and finishes for a resin driveway is extensive. From the gentle greys of Abruzzo to the subtle sandy shades of Winder's Grove, Pavilion Paving can work with individual homeowners to create the right aesthetic finish that complements their overall property. The company can also recreate bespoke designs using different colours and finishes to personalise the resin driveway according to individual tastes and designs to give your property that unique finish.

THE PERFECT SOLUTION FOR THE ELDERLY AND INFIRM

The surface quality of a resin driveway makes it an ideal choice for older homeowners or those with limited mobility. The finished surface that is achieved using resin-bound aggregates is smooth and 'joint free', removing the risk of unexpected trip hazards appearing due to movement of the aggregate caused by cracking or splitting or shifting. When laid, the resin driveway is a seamless surface that blends effortlessly with its environment. Its inherent permeability eliminates annoying puddles and ensures that any surface water is drained away back into the water table. Equally, as well as being generally slip resistant all year round, in winter months, the resin-bound aggregates prevent ice and frost from forming on the surface of the driveway. Any homeowner who is concerned about falling can walk confidently on a resin driveway from Pavilion Paving all year round.