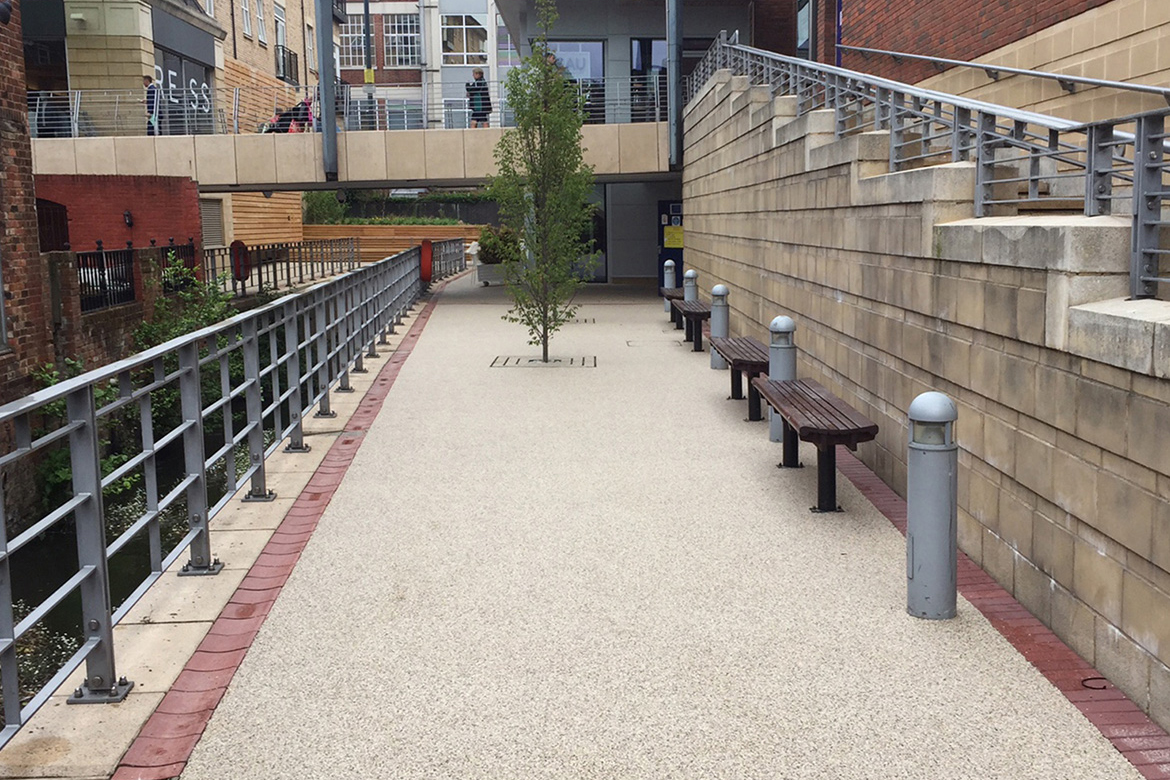 When it comes to building housing estates, hardstanding driveways are essential. After all, when someone is searching for a new home, parking tends to sit pretty high on the priority list. What's more, it's not all about driveways; quality outdoor paving is essential for safety and aesthetics alike. Uneven surfacing can be the cause of accidents and also doesn't act as much of a selling point for showcasing a home. It's for these reasons that our groundworks contractors in Reading work to provide durable and attractive paving to housing estates across the region.
Our Specialty

Pavilion Paving specialises in resin-bound surfaces, and these provide a number of benefits to all manner of environments. For instance, the use of resin-bound aggregates promises a consistently smooth and safe surface, minimal maintenance requirements, and an overall long-term solution. As a result, Pavilion Paving has provided the likes of architects, local authorities, property developers, and large building companies with quality paving solutions to meet all manner of requirements.

The Benefits of Resin-Bound Surfaces

As previously touched on, resin-bound aggregates come with many advantages, which are further expanded on below:

Safe and Slip-Free Surfacing

First and foremost, resin-bound paving is ice- and frost-resistant, resulting in a slip-free surface. This is particularly important for housing estates, as residents naturally want to feel safe within their living environment.

Low Maintenance

In the absence of a low-maintenance solution, housing estate developers and local councils will be required to shell out copious amounts of money to maintain and repair outdoor surfaces. While resin-bound paving may initially seem like a costly investment, it saves companies a significant amount of money in the long run. This is only aided by the fact that resin-bound aggregates prevent unwanted weed growth.

Permeable, Puddle-Free Paving

With resin-bound aggregates, water isn't able to pool on the surface. This is because the permeable surface means that water drains away, resulting in a clean appearance and safe surface.

A Versatile Solution

Pavilion Paving is able to provide surfacing solutions in a wide array of standard colours and finishes; however, we also have the capacity to create bespoke designs. This way, we can ensure that the new paving slots into the existing space effortlessly.

Risk-Free Contracts

When making an enquiry with Pavilion Paving, we'll carry out a full risk assessment of the environment to ensure that safe practice is carried out. We also have the reassurance of a £10 million public liability insurance, meaning that housing estate developers can rest assured that they're in good hands. If you wish to reap the many benefits of resin-bound surfaces for a housing estate, please enter your contact information into the form below, and we'll be in touch soon.